Is Your Home Making You Sick?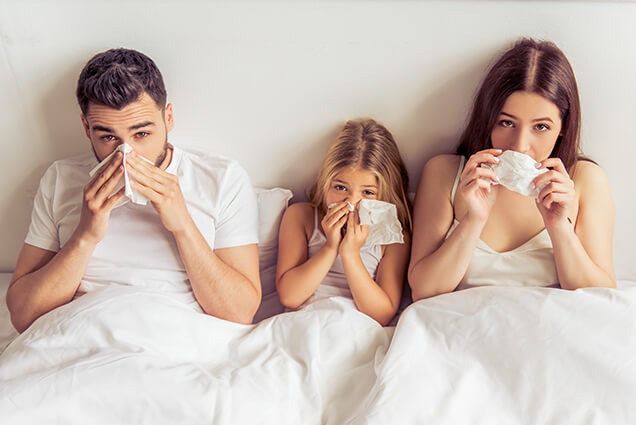 To understand why many of today's health problems can be caused by the home you live in, you need to look back a few years to see what caused this to happen. You see, during the energy crisis of the early 1970s, highly insulated "tight" homes became popular because of their potential to reduce energy costs.
Within a few years, however, complaints started to arise, due to health, and excessive moisture issues caused by indoor pollution, and associated moisture problems within these homes.
In the late 1980s and early 90s, indoor air quality became a nationally recognized issue. Even today, newer and more energy-efficient homes seemed predisposed to the problem. In addition, they retain more humidity and airborne pollutants, which causes longer life-spans, and more productive cycles of microbial activity within the home, such as mold, germs, bacteria and viruses.
This greater activity and concentration of these airborne contaminants, equates to more allergic reactions, and sickness within families, for longer periods of time.
Mold: A Survivor
Why is mold so difficult to control? Mold is at the bottom of the food chain. It thrives on very little, grows rapidly, and produces spores, volatile organic com-pounds, and other toxins. One organism can multiply to trillions in less than three weeks. When given the right conditions, mold can occur anywhere; in homes, schools, workplaces, entertainment centers, vehicles, etc.
The interior of your ductwork and air conditioning equipment, provides an ideal environment for mold growth — especially in the air conditioners inside drain-pan where it is dark, damp, and filled with nutrients. The result can be like blowing air over a swamp or through a sewer and then into your home, vehicle, and workplace.
According to the World Health Organization (WHO), 60% of Indoor Air Quality (IAQ) problems and allergies may be mold-related. Some IAQ diagnosticians and practitioners today say the figure may be as high as 80%. The increased usage of air conditioning systems almost directly parallels the increase of allergies and IAQ problems.
As mold and bacteria grow on coils and in drain pans, they are disseminated through the ducts to occupied spaces. Some mold products (toxins) produce serious and sometimes life-threatening reactions, including allergy, asthma, hypersensitivity, pneumonitis, and in some extreme cases even bleeding lung disease.
Additionally, mold creates a troublesome maintenance problem. Its activity results in dirty coils, a loss of air-flow, loss of heat exchange efficiency, dirty and sometimes plugged drain pans, and excessive energy use.
Using UVC Technology
Our company has found that the most successful way to handle system mold is through Ultraviolet (U.V.) germicidal lights. These U.V. systems are a recent breakthrough in protecting the health of a home.
Ultraviolet light in the "C" band (UVC) has been used for more than 65 years to kill microorganisms in hospitals, barber shops, laboratories, pharmaceutical plants, and at the nation's Center for Disease Control. Residential ultraviolet units have been independently tested and proved to be effective in the constantly moving air environments of heating and cooling systems, killing mold and bacteria quickly and effectively. The UVC energy attacks the organism's DNA and either destroys it immediately or prevents it from reproducing.
For most people, the original motivation for installing the lights is to abate IAQ complaints and/or allergies. However, they are also pleased to learn that many hidden odors are also eliminated with U.V. technology.
Upgrade Your Air Filter
Most heating and cooling systems still use a basic air filter. These filters were originally designed to protect the equipment and not the people served by the equipment. The average air filter is only capable of removing 3–5% of the particles that pass through it. Today, however, there are several types of permanent air filters available in various efficiencies that can help you filter the air in your home. If you suffer from allergies, asthma, hay fever or other breathing difficulties, there is an air filter that can help you. We can even provide you with the same type of air filter used in hospital operating rooms.
Flow-through Humidifier:
The Best Way to Humidify Your Home
With the proper level of humidity in your home, you will feel more comfortable and breathe easier. You can eliminate that dry eye, nose and throat feeling you have when you wake up in the morning. Humidity also reduces or eliminates static electricity. It protects the investment in your home and your furniture because proper humidity prevents wood from cracking and peeling.
A flow-through humidifier can be easily added to any forced air heating system. The advantage with this type of humidifier is that it provides humidity without breeding or spreading mold or mildew. This is in contrast to the humidifiers that use a reservoir where water can stagnate–a perfect environment for mold and mildew growth. A flow-through humidifier is easy to maintain. It has no moving parts and is designed to operate with no mineral or mold buildup.
Ductwork Modifications
Improperly sized or designed ductwork is the most common reason people are not comfortable in their own homes. Imagine for a moment that your furnace is your lungs. Now imagine that you are running a 1-mile race. If you are in good shape you should have no problem. Now imagine that you have to run that same 1-mile race breathing through a cocktail straw. No matter how good of shape you are in, you will never run the race as fast and easily as if you could breath normally. This inability to breathe is what happens when your furnace is forced to operate through improperly sized ductwork.
By custom fabricating sheet metal ductwork, we can quickly and efficiently build any necessary parts of duct to modify and enhance the performance of your system. Even if your entire duct system needs replacement, we can design and fabricate a new system in less than a day.