Indoor Air Quality Solutions for Big Sandy Residents!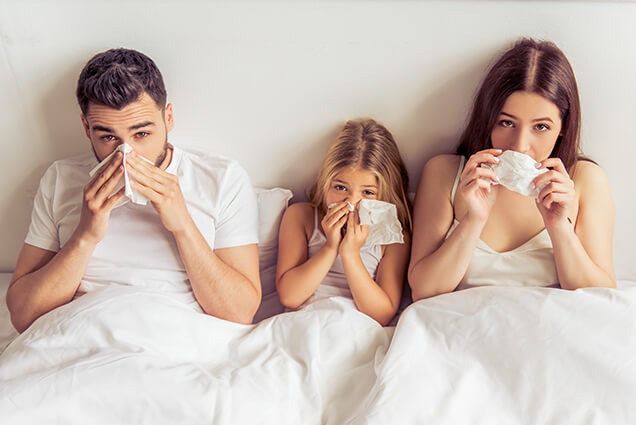 Does the air inside your home not feel clean? Are you or someone in your family dealing with breathing problems lately? If so, this could be caused by poor indoor air quality. Year after year, thousands of people are affected by poor indoor air quality and this can be caused in many different ways. We highly recommend getting an air quality evaluation from Big Sandy Heating & Cooling! Our experienced technicians can quickly assess your indoor air quality and see if there's room for improvement. In the event that you have poor indoor air quality, we have many products and services available to get you the air you desire.
See below for some of the causes of air pollution inside your home:
Tobacco products
Fuel-burning appliances
Insulation materials containing asbestos
Newly installed flooring or carpet
Household cleaning products
Outdoor sources: radon or pesticides
Excess moisture & mold
Central AC and heating systems
Humidification devices
Breathe Easier With Big Sandy Heating & Cooling Today!
Air filters can go a long way for the lifespan of your system and your energy consumption in your home. Dirt, dust, and harmful air contaminants infiltrate our homes on a daily basis. If you don't have a clean and properly installed air filter inside your home, you could be breathing in these harmful pollutants. Furthermore, they can have a very negative impact on your health and home comfort.
Reach Total Comfort With a Whole House Humidifier
Poor indoor air quality sure does take a toll on our bodies. In addition, this air can also cause damage to your home. Be protected by calling Big Sandy Heating & Cooling today! We can tell you all about the benefits of whole house humidifiers and how they can produce superb comfort for your whole family. These amazing machines pump much-needed moisture into the air, leaving you refreshed and comfortable. No matter if you need a repair, replacement, or installation, Big Sandy Heating & Cooling has the solutions you're looking for.
For over 42 years, we've been the #1 choice in the Hagerhill area for heating and cooling solutions. Need modifications to your existing ductwork? We can do that too! Whether it's designing a new replacement system or making parts for your current one, we fabricate sheet metal ductwork and can quickly make any customizations your system needs. If you need a quick AC repair or a whole house humidifier installation, and anything in between, we provide the quality services you can count on.